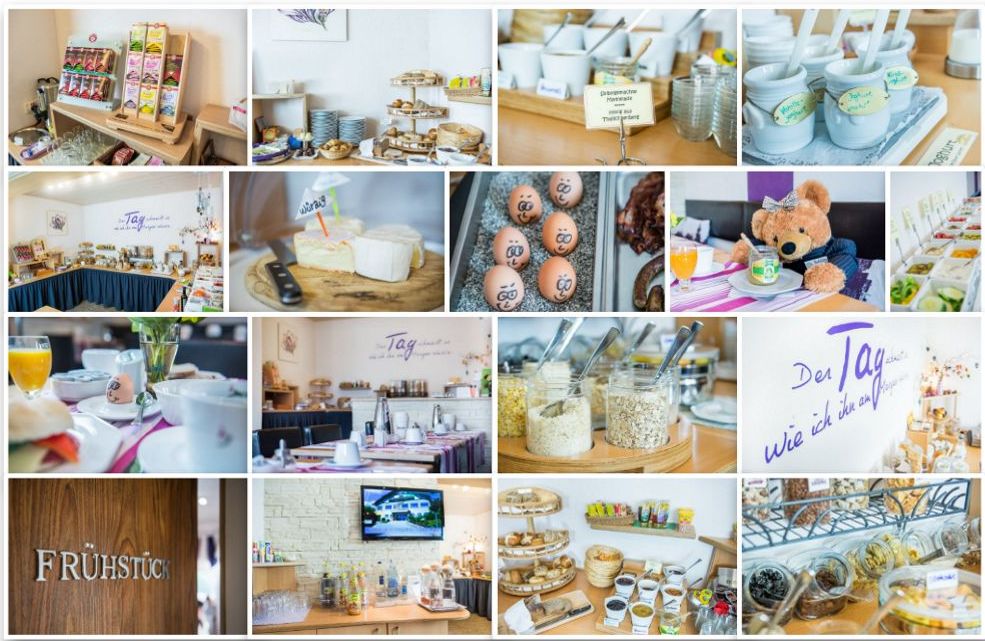 Everyone - breakfast in the hotel
Have breakfast in the hotel as a single, couple with friends, colleagues or groups.
Our rich TIPTOP breakfast buffet offers many delicacies.
At a price of 12.50 euros including coffee / tea.
Only with prior reservation.
Breakfast times:
Monday to Friday
6.30 a.m. - 10 a.m.
Saturday, Sunday and public holidays
8 a.m. - 10 a.m.
TIPTOP breakfast
Breakfast is the first and most important meal of the day and is valued by most people as a delightful start-up aid. For you, breakfast means more than just satisfying your hunger. It is important to drive away the last tiredness with a hot drink and to load the "BATTERIES" with calories and vitamins, as well as other nutrients, in order to start the day strengthened and with momentum.
The breakfast, which makes you fit for the whole day, should contain the following:
A valuable grain product (e.g. whole grain bread / rolls or muesli), dairy products (e.g. quark, milk or yoghurt), fruit or vegetables (e.g. tomatoes, cucumbers or pieces of apple).
A muesli, for example made from oat flakes, milk or yoghurt and fruit or a wholemeal bread sandwich with cheese, quark or jam.
A glass of fruit juice also provides plenty of carbohydrates, protein, vitamins and minerals.
We, too, certified with the seal of approval TIPTOP breakfast host, offer you such a top-class breakfast.
We offer you many regional products for breakfast such as:
Selection of 8 types of home-made jam, honey from Armin's hard-working bees from Thallichtenberg, farmer Brassel supplies the milk for our homemade yoghurt, the hard-working chickens from Berschweiler lay the eggs for you, the butchers Braun and Keller prepare delicious sausage and ham and bake bread we ourselves with flour and grains from the Tausendmühle in Bruchmühlbach, we get fresh fruit and vegetables for breakfast directly from the wholesale market, the Lösch family from Ramstein provides the valuable not-from-concentrate juices and the mineral water comes from the Hunsrück and Fachinger Brunnen, coffee is controlled sustainable cultivation of Jacobs and specialty teas from Teekanne & Pickwick,
Muesli and cereals from Kölln and much more ......
Notice:
Please also note our dates for the fork breakfast